50 YEARS
Saving Lives from Drugs
Narconon (meaning "no narcotics") drug and alcohol rehabilitation program is open to all who desire to end their addiction and lead productive, drug-free lives.
The Narconon program not only addresses the debilitating effects of drug abuse on the mind and body, but also resolves why a person turned to drugs in the first place. As a result, tens of thousands have graduated from the Narconon program into new lives free from drug use.
The Narconon program is based on the discoveries and writings of L. Ron Hubbard, the Founder of the Scientology religion. However, Narconon is non-religious and a person does not become a Scientologist by doing the program.
Mr. Hubbard began his research into drug abuse in the 1960s. The resulting discoveries provided the means by which individuals could become free of addiction.
Narconon centers use these discoveries to assist participants to overcome the physical and emotional causes of their addiction and, most importantly for long-term drug-free living, to end the cravings for drugs that can lead to relapse.
Narconon today constitutes a worldwide network of 45 residential rehab centers. Narconon Arrowhead in Oklahoma is the Narconon network's leading drug rehabilitation and international training center. It provides drug rehabilitation services as well as onsite training and apprenticing for drug rehab professionals from across the globe.
Continental Narconon centers serve entire regions as drug rehab and training facilities.
A unique Narconon facility near Ojai, California, has been established specifically to serve the special needs of prominent individuals in the arts and leaders of society.
BUILDING A
Worldwide Network
Narconon extends its care beyond rehabilitation, reaching out to the wider community to stem drug use before it turns to abuse and addiction. Narconon drug education specialists have provided millions of young people and adults with compelling information about drugs and drug abuse to steer them away from taking drugs.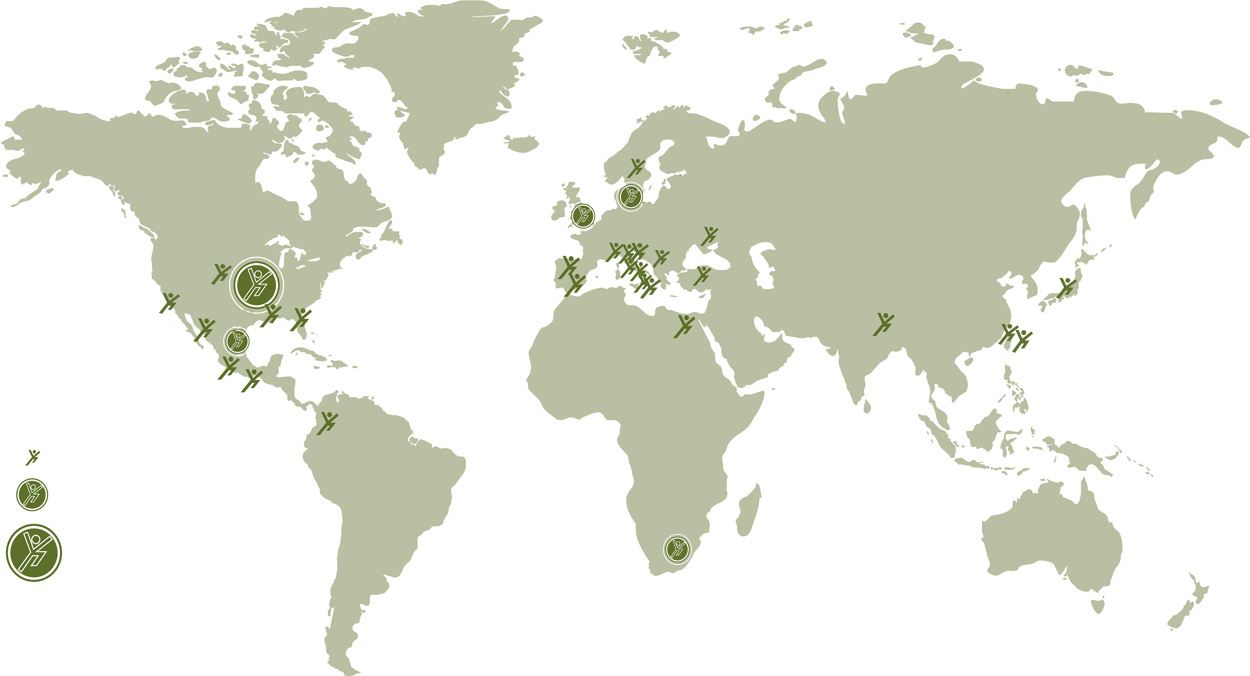 Regional Narconon Center
Continental Narconon Center
Flagship Narconon
This site presents an overview of nearly five decades of operation and accomplishment of the Narconon program. Here is a description of the program's unique components of drug-free withdrawal, New Life Detoxification and life skills, with pictorial representation of the New Life Detoxification component and a view of the breadth of Narconon rehab centers operating throughout the world, including new model Continental Narconon centers designed to provide the rehabilitation program alongside training and apprenticing of rehab specialists.
Perhaps the most significant perspectives are those of the individuals, families and communities whose lives are transformed when one or many in their midst are rescued from drugs. Program graduates, their loved ones, and civic, governmental and addiction officials speak to the successful and lasting freedom from addiction realized through the Narconon program.